Crochet Graphghan – Introduction & Patterns
A Crochet Graphghan is a blanket or afghan made with multiple colors to display an image. The images can range from simple flowers or characters to complex images, such as photos of people or landscapes. They can be detailed with many colors, or simple, with just a few. No matter how detailed your project, they create a beautiful and unique project that is sure to get you plenty of praise!
Most graphghans are made by following a chart, typically made with a graph, with colored blocks. Each block represents either a stitch or cluster of stitches, in the specific color shown.
Similar to the graph shown below of a square spiral inside a block.
The two most common ways to make your graphghan are Single Crochet by row, with each block representing a single stitch, or C2C, with each block representing a cluster of DC blocks.
To keep help with multiple colors, most crocheters use bobbins to keep their yarn organized and tangle free.
Take a peek at these beautiful graphghan patterns! Which one are you wanting to try? Let me know below!
Graphghan Patterns
Music Note Wall Hanging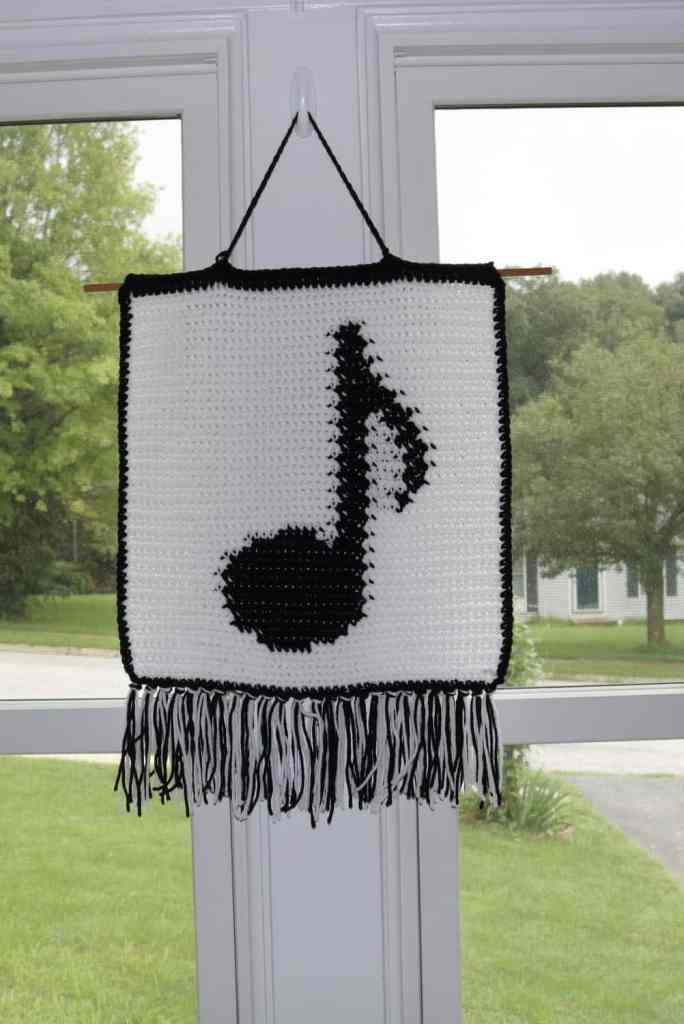 This beautiful Musical Note Wall Hanging by B4 and Afters may not be a blanket, per say, but they are a great beginner project to practice before jumping into a complex project. It can also be made into a full blanket by creating multiple blocks and attaching them for a larger fabric. This is a free pattern with easy to follow graph, great for someone new to graphghans.
Wildlife Blankets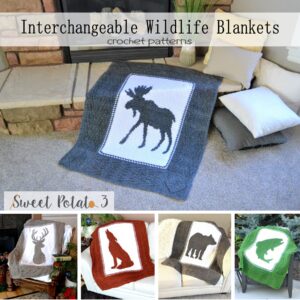 This beautiful collection of wildlife blankets by Sweet Potato 3 features silhouettes of five different animals, a deer, a bear, a fish, a wolf and a moose. Combined with the border and corner panels, you can create several different blankets from one collection! Purchase the entire collection or individual patterns in the Sweet Potato 3 Etsy or Ravelry store.
Zinnia C2C
This Zinnia C2C graphghan pattern by Rebekah Haas is a simple, yet elegant baby blanket that any expectant mother would love. Sized at a perfect 40" square, this graphghan would look amazing as a photo prop for growing babies. Purchase the pattern in Rebekah Haas Ravelry Shop.
Jolly Roger Pirate Flag C2C
This unique C2C graphghan by Allyssa Beths Crochet features the Jolly Roger seen on many pirate ship flags throughout history. Made with 2 colors, in C2C format, this pattern comes with PDF instructions that are easy enough for any beginner to follow. Purchase the pattern on Allysa Beths Crochet to get started today!
Flamingo Beach Towel
This free pattern by Stitch and Hound is a cute C2C beach towel with a Pink Flamingo standing proud on a white and blue background. The free version of this adorable pattern includes written instructions. For a minimal cost, you can purchase the printable PDF chart from Stitch and Hound.

Bee Pillow
This single crochet graphed pattern by Sunflower Cottage Crochet creates a 16"x16" square pillow. The pattern features a beautiful bee over tulips and would make a great accent piece!  You could also make multiple squares and piece them together for a full sized afghan.  The pattern can be purchased in the Sunflower Cottage Crochet Ravelry Shop.
Don't forget to follow me on Facebook or join my Facebook Group for more tips, tutorials and patterns!