Buying a gift for a loved one, when you're not overly familiar with their craft, can be a bit intimidating. I've compiled this list of gifts for crocheters to help guide you through what you need to know, and help you narrow it down. While I have it broken down between beginner crocheters, intermediate crocheters, and stuff everyone needs, the list is pretty interchangeable, so don't limit yourself. I promise if you buy a beginner something from the intermediate list, or an intermediate crocheter something from the beginner list, they are going to love it, and you, all the same! So let's get started!
Gifts for Beginner Crocheters
Ergonomic Hook Sets
So this one may seem obvious. What do you need to crochet? You need hooks. Hooks and yarn. We'll get to the yarn later, it's not just for beginners so you'll need to read on for that. I promise I will get there. So, let's talk about crochet hooks. A beginner crocheter usually starts with one or two hooks, whatever their pattern calls for. Or if they get a set, they are typically the standard aluminum crochet hooks. A set of ergonomic crochet hooks can be found in any price range, and would make a great gift for the beginner crocheter!
Yarn Bowl
A yarn bowl is not something that a beginner crocheter really thinks about, until they have yarn wobbling all over the floor. And trust me, that is GOING to happen! I remember when I was first getting started with crochet, I would drool over some of the beautiful and creative yarn bowls that I saw around. I began with making my own, which works well if you're on a budget. Don't discount a yarn bowl as a great crochet gift for beginners.
Basic Stitch Guide Books
Books are perfect gifts for, well, frankly anyone who crochets. A beginner is likely going to want books that have multiple stitches, with pictures, and instructions for recreating the stitch. I promise, you cannot go wrong with a book!
Measuring Tools
Crocheters need to measure their work. I tend to measure an initial gauge swatch, as well as checking my progress throughout the project. I have two different tools that I use for this.
The first one is a measuring tape; the kind you find in the sewing aisle. You can buy these just about anywhere, you don't need to go to a crafting store to get them. There are many different types, and the type really doesn't matter. It doesn't matter if it folds up or winds into a case, the important thing is that you have one to measure.
The other measuring tool that I use is a quilters square. The reason I use a quilters square is for measuring gauge. Patterns typically give a gauge, and a pattern to create to test your gauge. The pattern is usually 4"x4", and a quilters square makes it so much easier to check your gauge before you start your project.
Yarn Needles
Yarn needles, also known as tapestry needles, are one of those crochet "should have" items, rather than a must have item. They're not very expensive, but they're often overlooked, and it's always a good idea to have some on hand for weaving in ends, or sewing pieces together.
Gifts for Intermediate Crocheters
Yarn Bag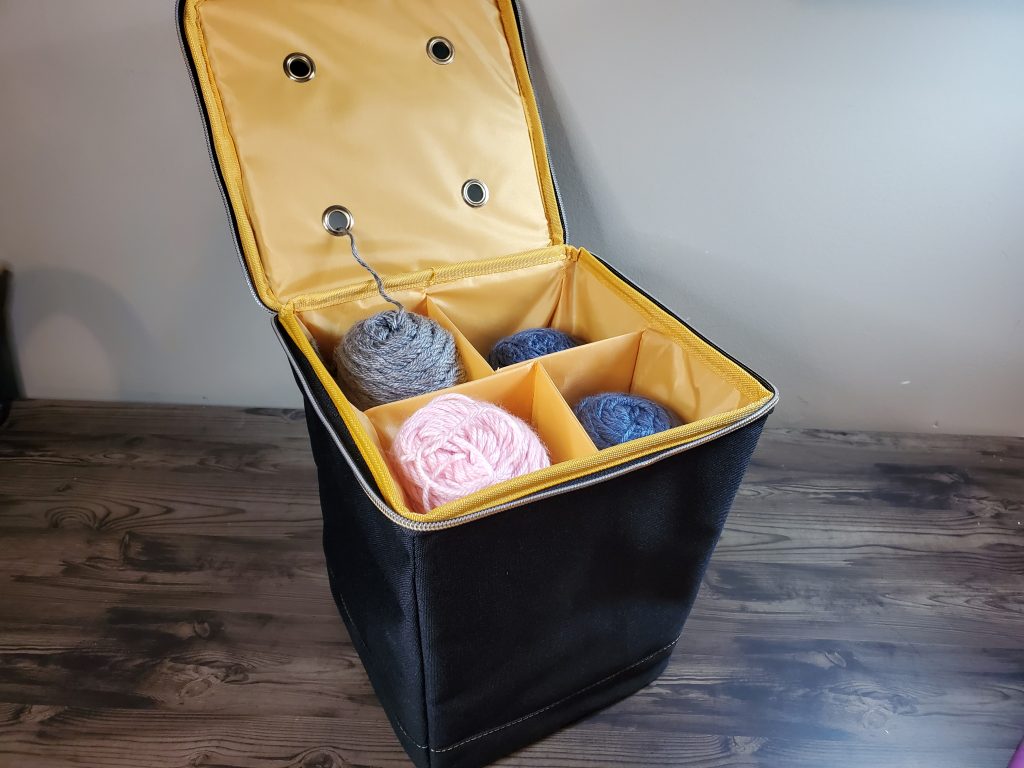 I love yarn bags.  I have several.  They help me keep my project materials together, because we always have more than one project, or WIP (Work in Progress), going at the same time.  They have many different types and I personally love them all. 
For bigger projects, I use a regular tote bag.  Afghans or larger sweaters will fit in a tote bag with all the yarn and hooks needed for the project.  They keep the project contained and they make it quite easy to grab the project to take with you when you leave the house.  But there are many other types of bags.  And trust me, we want them all.  There are bags with wooden legs for leaving beside the couch, bags with zippers and grommets for slipping your yarn through them, so they double as a yarn bowl.  There are bags with multiple compartments, for organizing your books, hooks and other tools.  A yarn bag is always appreciated, and you really can't go wrong by giving a crocheter one as a gift.
Pattern Books
I'm back to books. I love books. They are perfect gifts for crocheters. If you're buying for an intermediate crocheter, odds are they already have basic stitch books. So focus on books with patterns. Examples pattern books are books that have afghans, sweaters, hats, amigurumi (stuffed animals) or holiday patterns. Don't limit yourself to just what I have mentioned here. I promise you, books will always be appreciated.
Yarn Winder
I know what you are thinking.  Why do you need to wind your yarn, doesn't it already come wound?  I am going to admit,  I was a total skeptic. And  I thought the exact same thing.  But there is a real purpose behind winding your yarn! 
Let me explain.  A lot of the yarns you have seen probably have a nice center pull.  Center pull means there is an end of the yarn sticking out from the center, to keep the yarn nice and still while you crochet.  And those are great!  Until you only use half the skein, and it turns into a tangled mess the next time you pull it out to use it.  So you spend some time winding it into a ball.  Great, until the ball you made rolls all over as you're working on your project.  There are also yarns that don't come with a center pull.  Those can be a real pain to work with. 
So, this is where the yarn winder comes in handy.  A yarn winder will put your yarn into something called a cake.  A cake is basically a cylinder; flat on the top and the bottom.  This makes it easier to store your yarn, and to stack it.  Not only that, cakes are also center pull!  No more roaming and flopping yarn! 
I once was a skeptic, but I will not go back!  I love my winder!  And I am not going to lie, there's something about watching the yarn go round on the winder that is incredibly relaxing!
Crochet Hooks, Specialty Hooks (Tunisian, etc)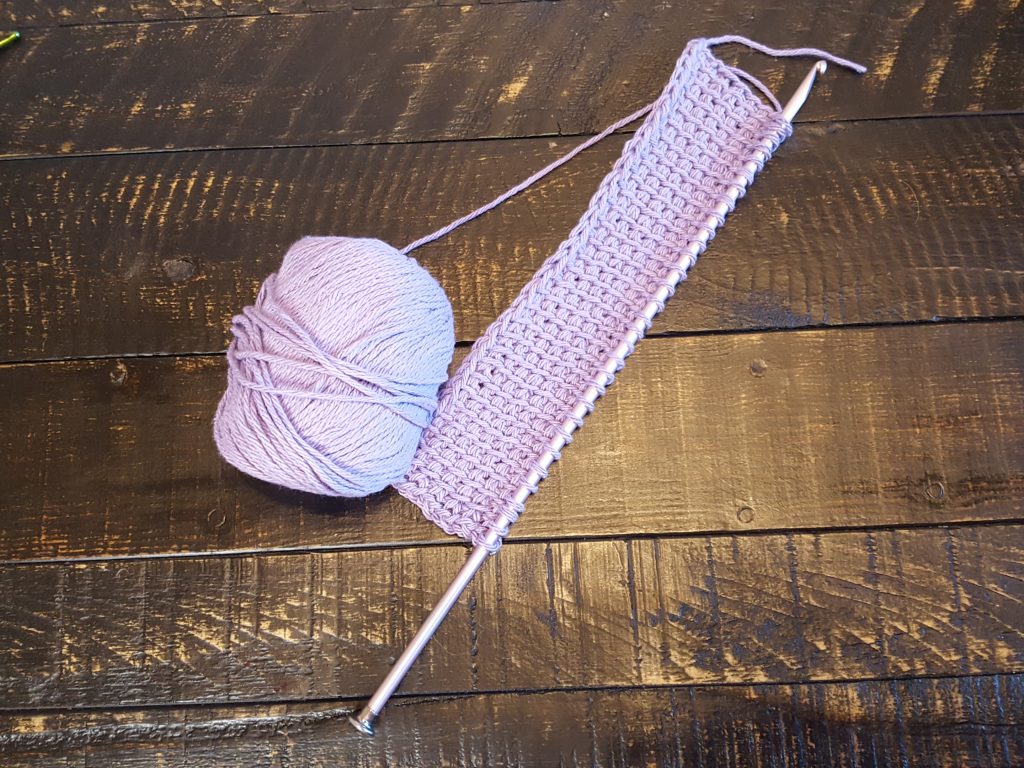 I'm back to hooks. I suppose I am repeating myself a lot, aren't I? You can always buy hooks. We always need more. A hook tends to be kept with a project until it is completed. So, duplicates are always welcomed. Plus, you would not believe how often someone loses their hooks, sometimes we even forget we put them in our hair!
More advanced crocheters are also going to be interested in other types of hooks. Tunisian Crochet is becoming more and more popular, and requires a longer hook. You can pick up a full set of hooks in every price range. If you're buying them for someone who makes a lot of blankets, I recommend getting ones that have wire extensions on the end, to help hold the stitches.
Blocking Mats
Blocking mats are foam squares that are only about a half inch thick. They're used for blocking squares and pieces for garments, and other decorative pieces, in a process that helps the pieces hold their shape.
Pom Pom Makers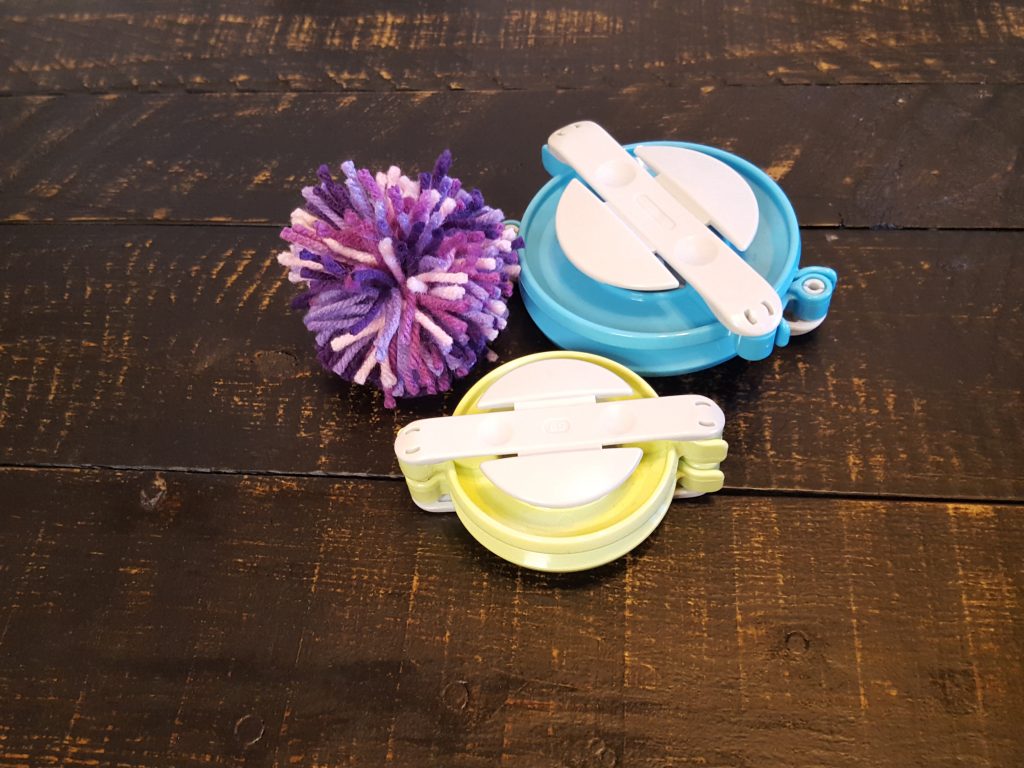 Who doesn't like pom poms? A pom pom maker is a round device that you wrap yarn around, and it holds the yarn in place while you cut it and tie it into the perfect pom pom.
Gifts Every Crocheter Needs
YARN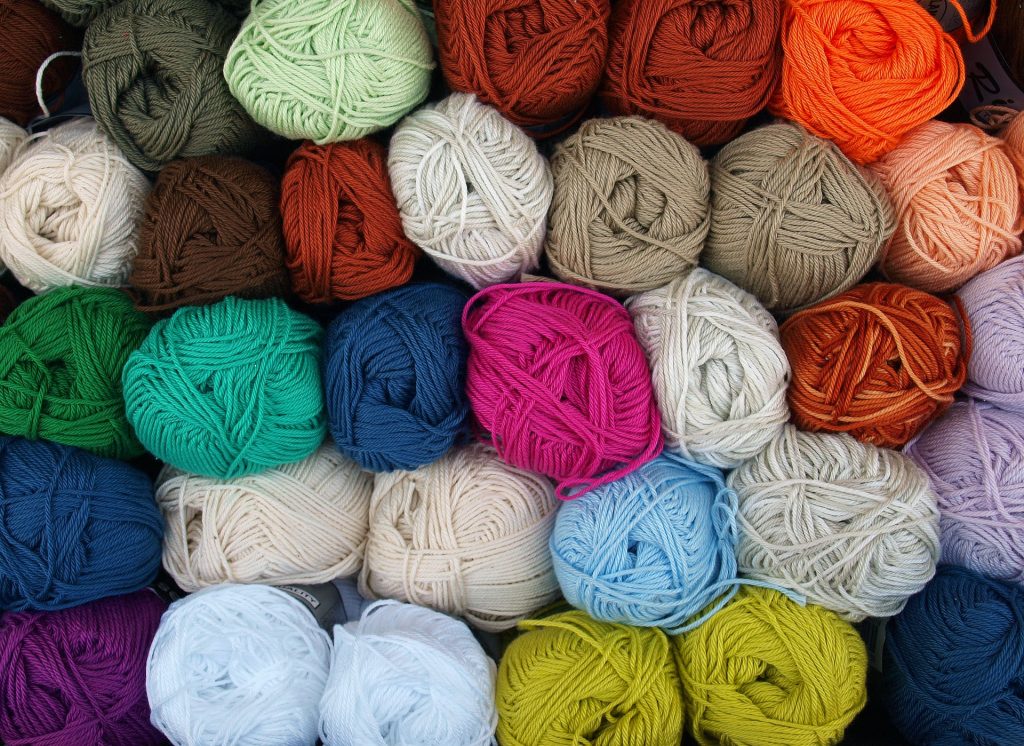 I told you I would get to it!  Every crocheter wants yarn.  Seriously.  There is not enough yarn.  And even if you think our stash is big enough, it's not.  There are so many types of yarn.  There is thin yarn and thick yarn; cotton yarn, wool, and acrylic; colorful and plain colors.  And we want it all.  
Stitch Markers
Stitch markers are another item that everyone uses. You can find all types of stitch markers, from simple plastic loops to beautiful handmade markers. Stitch markers make a great gift because they help us keep track of beginning stitches, and also how many stitches we've made in a row.
Yarn Storage
Yarn storage is super important. We all need somewhere to keep our stash! Something that helps us keep the yarn picked up, protected from dust, and yet still accessible to us when we need to find something is all we need. Storage doesn't have to be specific for yarn. Baskets and bins work just fine!
Neck Light/Desk Light for working with Dark Yarn
Dark yarn is hard to work with. If your crochter has ever made you something in dark colors like navy or burgundy or the dreaded black, they love you very very much. One thing that helps make working with darker yarns a tad bit easier is light. We don't need fancy light, but the light does help us see the yarn and stitches much easier. A desk light works, something we can angle at our projects to get the best light possible. Another option is a neck light. A neck light is a battery operated light that hangs around your neck, and they light up your working area, making the stitches a bit more visible.
Lighted Crochet Hooks
If you travel frequently and your crocheter likes to work on their projects in the car, a lighted crochet hook might make the perfect gift. Lighted crochet hooks usually come in sets with interchangeable ends, and they also make it easier to see the stitches in the dark yarns.
Hairpin Lace Loom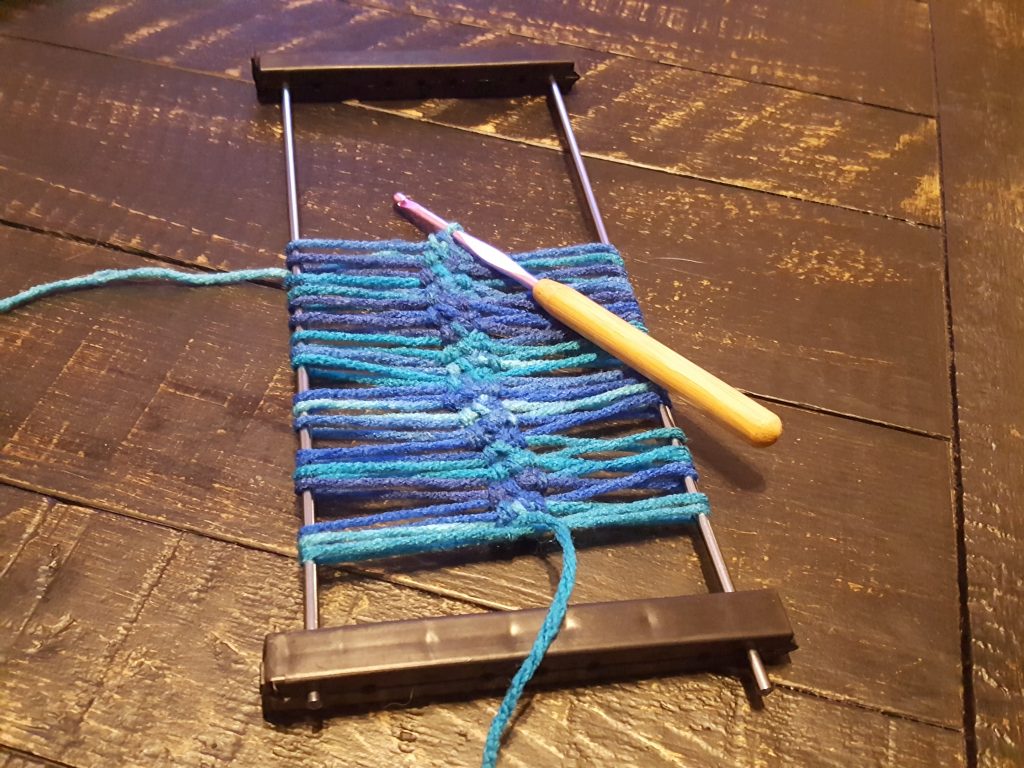 A hairpin lace loom is a small flat loom that makes panels of hairpin lace. The most common way to use these is to make a project with a braided look.
Amigurumi Accessories – Safety Eyes, polyfil, wire for shaping, Felt,
If your crocheter makes a lot of stuffed animals, also known as amigurumi, then they will always want to have accessories on hand. Safety eyes are plastic eyes with plastic rivets that make stuffies safe for babies and small children. Wire, felt, faux fur and other embellishments help add character to our creations, and are always appreciated. And let's not forget, polyfil to stuff our creations.
Still not sure what to get? A gift card works, too! Then your crocheter can pick out exactly what they need!
I hope that this list was helpful in guiding you through the items your crocheter may need. If you're still feeling stuck or confused, feel free to reach out. You can comment below or find me on Facebook.